Starting point and final destination are sea scapes Kremik and Agana. Kremik is located in beautiful bay 2 km southern from Primošten (HR), direction Trogir. Marine Agana is located 15,6 km from marine Kremik. This marine has very nice and pleasant surroundings,very good fish restaurant and service. Satelite navigation in WGS-84 mode: 43°30´44,0´´N, 016°06´53,2´´E.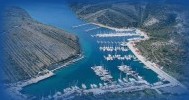 The journey is planned operationally in accordance with focus of sailing, weather conditions with the aim everyone feels safe, with cheer and there is peace and comfort on the board.
The destinations of our sea journeys are picturesque and looking alive seaside resorts as Korčula, Trogir, Hvar or Dubrovnik, and also peaceful islands, suitable for undisturbed anchorage in bays with opportunity to dive, explorations of islands or declassified submarine bunkers or just for relaxation or meditation.